Truffle Valley produces quality truffles in the heart of the beautiful Yarra Valley, only 1 hour from Melbourne CBD. Our truffle farm is nestled amidst rich farmlands, where fruit orchards, wineries, and wildlife flourish in a landscape of rolling hills.
Truffles are one of the most exquisite flavours known in the culinary world, so visit us in truffle season and indulge yourself by purchasing some fresh truffles from Truffle Valley farm. You can sign up below to be notified about the opening of the Truffle Season, upcoming Truffle Hunts and exclusive offers and events.
We produce mostly French Black Truffles, famous for their distinctive aroma and unforgettable flavour. Grown and nurtured in ideal conditions and fertile soils, truffles have always been an elusive crop demanding years of patient dedication before they come to maturity.
In the cool winter months, their unique scent escapes the earth to signal when they are ripe to harvest and it is only then that they are expertly detected by our trusty truffle dogs, Tessa and Rita, and finally harvested with the care and skill of an archaeologist.
French Black Truffle
This is the famous French Black truffle also known as "Périgord", after that region in France. Its outer layer is a black rough looking skin but inside reveals an intricate network of thin, white veins which standout on the inner black. French Black truffle has a mysterious history of secret forest hiding places. In the past, the whereabouts of truffles was a heavily guarded secret of peasant farmers.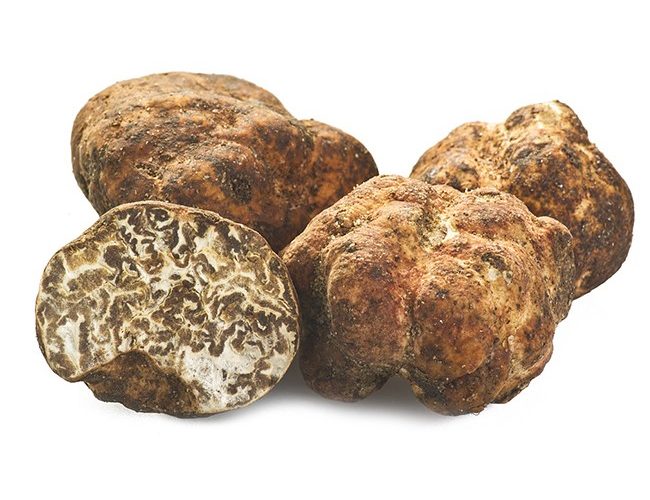 White Truffle
This is Bianchetto, meaning whitish truffle and a native of Italy. Bianchetto or White Truffle, as it is most commonly called, has a slightly different aroma and flavour to the French Black Truffle and its' appearance is quite dissimilar, with its whitish exterior and marbling interior. It is less frequently grown in Australia but is nevertheless a wonderful culinary treat.
Our Amazing Truffles
The botanical name for French Black Truffles is Tuber Melanosporum but French Black Truffle is also aptly nicknamed BLACK GOLD.
Harvested in winter, the cold ground yields the 'Black Gold' when it develops its intense, distinctive aroma. It is a culinary treasure, found beneath the ground, clinging to its host tree for vital carbohydrates and sugars. In return the fungus feeds the tree roots with phosphates and nitrates creating a wonderfully symbiotic relationship!
Truffle Valley also grows White Truffle or Tuber Borchii, not to be confused with the very rare Italian white truffle. Just as scrumptious and aromatic as its black cousin, white truffle is also a culinary delight. Choosing between black and white truffle is like, preferring red or white wine, or soft or hard cheese. Many of us love both!
Eat Truffle
Truffles are an epicurean delight with a unique, unforgettable, tantalizing taste, that cannot easily be described by comparison with other food fare. Their history, cultivation and character make them an exotic, sought-after ingredient by discerning chefs and foodies alike.
Truffles can be used in many foods such as pastas, soups, sauces, cheeses, honey and eggs. Or they can simply be shaved over your favourite steak, fish, or white meat to enhance the meal with a whole new dimension of scrumptious pleasure.
Explore the Yarra Valley
Truffle Valley is located in the Yarra Valley , where you can enjoy a wonderland of experiences, only an hour from Melbourne. Discover the wineries, artisan foods, farmers markets, beautiful scenery and experience unique adventures that take your breath away. Click here for more information about exploring the beautiful Yarra Valley.
It was so exciting to finally enjoy our first truffle meal at Truffle Valley last year. We never imagined that we would be eating truffles from our own truffle orchard in just the fourth winter after its establishment. Comparatively speaking, this is an early yield....
read more